Legendary Sitar & Surbahar Maestro
"This great musician was also a great man. His real simplicity and unaffected manners, his laughing and mischievous eyes from which a child-like purity filters out, are eloquent enough. In one word: he is a true Artist."

Patrick Moutal, Ocora CD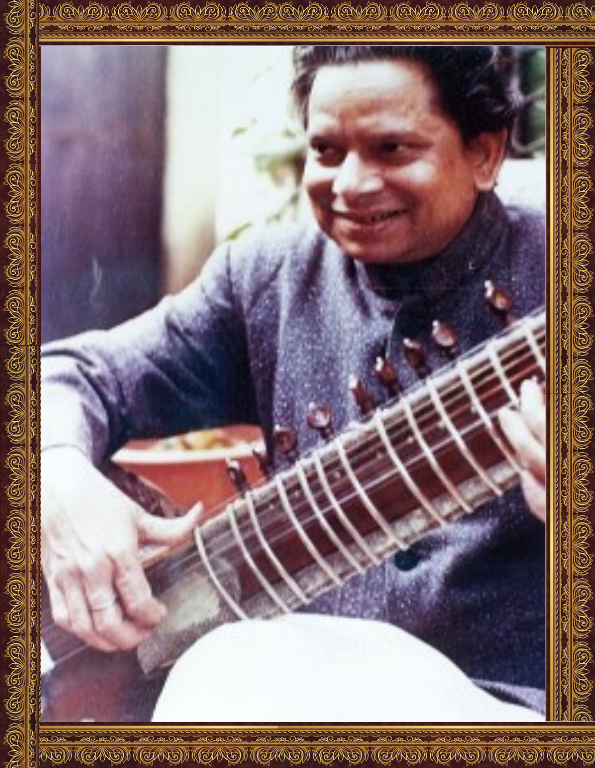 Pandit Balaram Pathak's family traces ancestral tradition to Gopal Nayak; Lt. Pt.Ramgovind Pathak, the renowned musician, sitarist and surbahar player. His family was of refined musical stock, his Great Grand father Lt. Pt. Dinanath Pathak was a great Dhrupadi. Pt. Balaram Pathak is acknowledged as one of the greatest sitar players in Northern Indian music in India. He was born on November 5, 1926 in Balia, Uttar Pradesh. He learned the art of playing on sitar and surbahar in his early childhood under his talented father. From the age of ten he practised sitar and surbahar eighteen hours a day for the next sixteen years, learning Sur-singar (instrument) and vocal music. At the age of twelve he gave his first public performance at Murshidabad, West-Bengal.
Late Pandit Balaram Pathak is one of the most important sitar players of the former generation. He influenced many sitar players and got recognized by many great musicians for his unique style.
Balaram Pathak's debut concert dates back to 1938. As a winsome boy in his early stages, he played with rare artistry creating unprecedented sensation and great impact on the master musicians.
At a very early age he became the court musician of Maharaja Kamla Ranjan Roy in Cossimbazar, Murshidabad, West-Bengal. His talent has been able to graft all the finer points and subtleties of Dhrupad and Khayal in the instrument.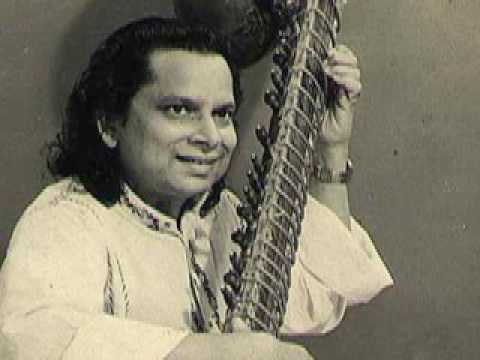 Balaram Pathak's style consisted of a unique combination of the qualities of novelty and perfection in exposition of the Indian ragas. His alap, meends, mukris, gamaks, zamzamas, ulta jhala created an atmosphere of ideas and feelings which was at once serious and moving. Pathak's individual talent along with the tradition of this Gharana has produced a living legend. Based on his extensive and erudite research of the Carnatic (South Indian) and North Indian styles of music he had made immense contribution to classical music by way of his compositions and introductions of new Ragas like Latangi, Charukeshi, Sanmukh-priya, Amrit-versa, Bakra-madhama Tori, Mukhari, Lilawati, Ahiri etc.
Awarded of 'Sur Sadhak' title from Calcutta Conference, he had two discs to his credit. Pandit Pathak renders even rare and difficult ragas with commendable fluency, and will be held in high esteem in the minds of true music lovers.
After having been nominated for the head of the department in the Music faculty of Khairagar University in Madhya Pradesh for some years, Balaram Pathak shifted in 1980 from Calcutta to New Delhi. Balaram Pathak participated to the most prestigious annual music festivals of the country and has been regularly performing for All India Radio (A.I.R. Calcutta, A.I.R. Delhi).
Specially delegated by the 'Government of India', Pandit Pathak visited the European countries. He was awarded the prestigious Sangeet Natak Academy Award in 1989. He has a unique credit of inventing the 'Raag Bahadur Shastri', dedicated to our late Prime minister, Lal Bahadur Shastri.
Pandit Balaram Pathak passed away on the 15th February 1991, in New Delhi.